Party Clean up – Not an Issue Anymore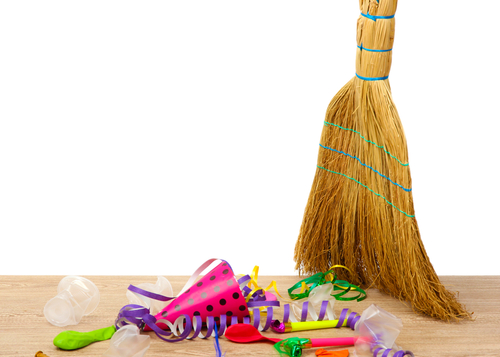 by RJN
Thursday, January 14, 2016
Imagine you have a party at your home tomorrow, what will be the first thing on your mind?  Will you worry about what you are going to wear?  Of course not! That's a secondary thing right now, when you've got to clean your entire place before tomorrow evening.  And not just that, you've to prepare the food too.  What seems to be the most optimal solution in such circumstances?  Have someone to share your work with, right?  The professionals for both pre and post party clean up services are the perfect answer to your thoughts.
Why Hire Professional Party Clean up Services?
Arranging a party in your home is already a huge responsibility, and then wishing there are no spills on your carpet and furniture, after the guests have left, is always an unanswered prayer.  However, in such circumstances, the professionals providing party clean up services are a blessing in disguise.
·   Because Professionals Clean Your House Your Way
You may not have to worry about tidying up the whole place after a rocking party.  You may sit back and relax with your friends while having the professionals clean up your place.
However, you might have second thoughts before hiring a professional for party clean up but to tell you the truth, professionals will do the work just your way and far beyond your expectations.  You may even tailor your cleaning plan, asking them to invest more time cleaning your kitchen and carpets.  You won't be able to spot a single spilled area after they have cleaned up the place.
·   Hassle-Free Work
Having a party at your place is bit of a hassle itself.  Pre-party cleaning requires efficiency and fastness at the same time.  When just one person is handling party stuff, chances are you might get clumsy and drop off glasses or water and wine in haste.  In such situations, the professionals are of great help as they perform hassle free cleaning.
·   Cleanliness with Standards
The first and top-most priority of a cleaning professional is to provide you the standard cleaning services.  They ensure that their tools, equipment, products and methods are all up to the standard.  They stay updated with new research done on inventions and advancements in the cleaning field.  Thus, they use products that are not going to flare the nostrils of your guest if you have hired them for pre-party services.
With all the above reasons, you must want to hire a professional cleaning service the next time there is a party at your home.  First Class Cleaning FLA is one such cleaning company which will live up to all your expectations, providing you exceptional services for party clean up.  To contact First Class Cleaning FLA, call (954) 968-9728 or book a cleaning online in less than 60 seconds at www.firstclasscleaningFLA.com.